Military Discounts in Marietta, Ga
$500 Cash Allowance on New Chrysler, Dodge, Jeep or Ram Vehicles at Ed Voyles CDJR
We have the largest selection, competitive pricing and the highest level of customer service in Atlanta, Ga. We are also open 7 days a week (yes, even on Sundays)! If you're in the Atlanta area, looking for a new car, truck, minivan or SUV, consider Ed Voyles CDJR, locally owned serving Atlanta since 1952.
Serving Those Who Serve Us: Military Customers
At Ed Voyles, we value the late nights, the early mornings, the time away from loved ones, and the importance of protecting a nation bears. We also know that there is no price that equates to the sacrifice the men and women of the military, firefighters, police personnel and EMTs give for our safety and freedom. We are grateful to you for your endless service to our country, and we would like to show our appreciation. That is why we are proud to offer you and your families our First Responder and Military Discount – where you can qualify for a minimum of $400 up to a maximum of $1000 discount on an Ed Voyles vehicle. Whether you are stopping by to shop for a new vehicle or to service your
current one, let us share a discount, a cup of coffee, or a bag of popcorn with you and say "thank you for your service."
As our way of recognizing those who risk their lives to defend the U.S., we offer:
* $500 CASH ALLOWANCE on a NEW Vehicle Purchase + 20% Discount* on Parts & Service (*with a $250 Cap)
The $500 cash allowance covers all new Dodge, RAM, Chrysler, and Jeep® vehicles and is extended to all qualified enlisted military personnel and veterans. Go ahead, enjoy the freedom to roam, in the Country you serve and defend.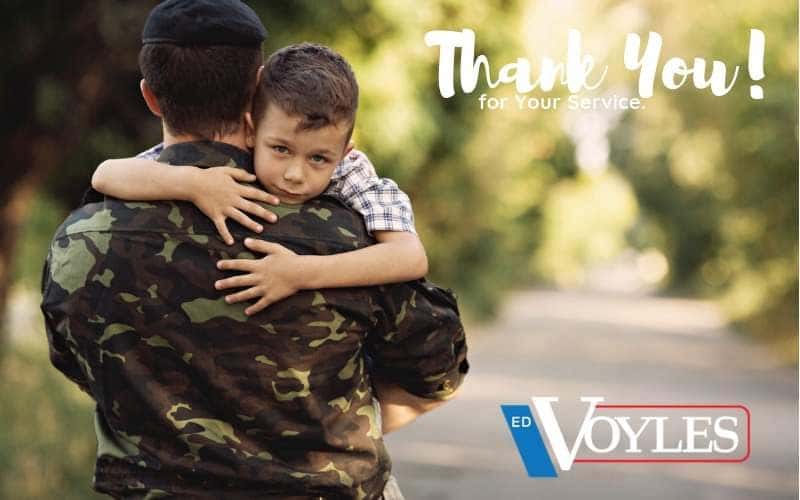 PROGRAM PERIODS:
Offer applies to purchases and leases on all new vehicles.
PROGRAM TYPE:
Refer to the Incentive Program Rules Manual (previously referred to as the Gold Book) and Incentive Summary Communications.
PROGRAM DESCRIPTION:
This special offer is for those who've risked their lives defending us. If you're Active, Active Reserved, Retired Military, Retired Military Reserve or are an honorably discharged veteran within 12 months of discharged date, you're eligible for up to $500 in Military bonus cash under our Military Incentive program. The offer applies to purchases and leases on select 2019 and 2020 vehicles.
Stationed Overseas?
You may be eligible for even more incentives. Have your dream vehicle waiting for you. Contact us today!
CONSUMER ELIGIBILITY:
Eligible consumers include active military, active military reserve, retired military (honorable discharge and 20 years of service required), and retired military reserve (honorable discharge and 20 years of service required). Honorably discharged veterans are eligible within 6 months of discharge date.
All eligible personnel must present their military I.D., discharge papers (DD214 form), or other documentation that clearly reflects their eligibility status, to a franchised Chrysler dealer in the United States at the time of retail purchase of an eligible vehicle.
The vehicle sale or lease must be registered in either the name of the eligible participant or registered in the name of an immediate family member living in the same household.
The eligible retail purchase or lease customer must assign the cash allowance to the selling dealer. The retail purchaser's order must show the cash allowance as having been applied to the vehicle's purchase price, or in the case of a lease customer, as reducing the total lease obligation (12-month minimum lease term).
When the military I.D. or discharge papers are presented that bears a former or changed name, the customer must substantiate the former/changed name with a copy of legal documentation, (i.e., marriage certificate, divorce decree, court order). The dealer must retain a copy of this documentation to verify customer eligibility.
PROGRAM COMPATIBILITY:
These programs are compatible with the following program types, providing the vehicle meets all program eligibility requirements:
Automobility Program
National or Regional Consumer Cash Allowance/APR programs
National or Regional Lease programs
National or Regional Consumer Lease cash programs
National or Regional Consumer Lease Loyalty cash programs
All other Certificate programs
Chrysler Employee Advantage program
Dealership Employee Purchase Program
Chrysler Affiliate Rewards Programs
This program is not compatible with the following program types: Any vehicle sold or leased to a registered Fleet Customer, regardless of whether a Fleet Allowance or payments are available or claimed.