Ed Voyles Voted "Best of Cobb" in Multiple Categories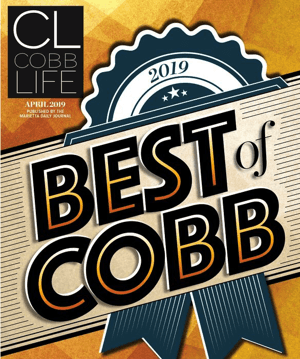 Day in and day out, the team at Ed Voyles Chrysler Dodge Jeep Ram work tirelessly to provide everyone who walks through our doors with a world-class experience. As the esteemed #1 Jeep dealer in the Southeast, we take an infinite amount of pride in our ability to meet your needs and exceed your expectations at every turn. While we believe we're the best dealership in the area, we understand our opinions may be a little jaded. However, our beliefs have been confirmed by our outstanding performance in Cobb Life Magazine's annual Best of Cobb competition. Ed Voyles Chrysler Dodge Jeep Ram as voted Best of Cobb across four different categories! Continue reading to learn more about what makes Ed Voyles CDJR the Best of Cobb!
Best Auto Dealer in Cobb County
At Ed Voyles CDJR, you can easily browse four different brands from at our state-of-the-art location, which is one of the attributes that make us unique. However, it's the way we treat our customers that really sets us apart. We understand our customers may be bombarded by dealerships with options on virtually every corner. While other dealerships may be able to match our inventory and come really close on price; it's the experience you recieve when you visit Ed Voyles CDJR that helps us stand out as the Best Auto Dealer in Cobb County.
Best Car Salesman in Cobb County
Drew Tutton, Ed Voyles CDJR GM, won top honors for being the Best Car Salesman in Cobb County. Although he is the General Manager, Drew always finds time to help customers and provide the personalized attention he has become known for. With an open door policy and a dedication to delivering exceptional customer experience, Drew leads by example!
Best New Car Dealer in Cobb County
If you've never stopped by Ed Voyles CDJR in Marietta, you owe it to yourself to embark on a completely unique car buying experience. In fact, it's the best car buying experience. Here are a few attributes that make Ed Voyles CDJR the best new car dealer:
1. Vast selection of new Chryslers, Dodges, Jeeps, and Ram vehicles in virtually all trims and across the spectrum of colors. It's simple, we make it our business to keep an expansive inventory.
2. Ed Voyle's knowledgeable staff excel in communication and will listen to your unique needs to guide you to the best possible solution. Everything is driven by what's best for you — the customer.
3. Our culture is driven by your complete satisfaction. We have removed conflicts of interest, so everyone can focus on what really matters — your needs.
4. Our robust online experience makes it super easy for you to shop, research, and even buy from the comfort of your home.
5. Whether you're in Kennesaw, Dallas, Marietta, Smyrna, or anywhere else in the metro Atlanta area, the Ed Voyles CDJR reputation is unimpeachable.
6. We are home to an expansive state-of-the-art facility, so you'll feel the comfort throughout your appointment and know we appreciate your business.
7. Excellent relationships are the foundation of Ed Voyles CDJR. We pride ourselves in selling cars and providing service to the same customers over and over again. We also provide automotive solutions to their families, extended family and network of friends. Simply put, we build relationships based on trust and appreciation.
Best Collision Center in Cobb County
Don't let a dent, ding, or major accident get you down! You have a trustworthy friend in your corner at Ed Voyles Body Shop & Collision Center. Built on integrity, affordability, and responsiveness; we are proud to be home to the Best Collision Center in Cobb County.
Contact the Best Dealership in Cobb County at Ed Voyles CDJR
You've tried the rest, and now it's time to enjoy the best. Contact Ed Voyles CDJR today for all of your automotive needs by calling 855-433-6546.