Ed Voyles Sponsors Cobb County's Teacher of the Year Awards in Atlanta, GA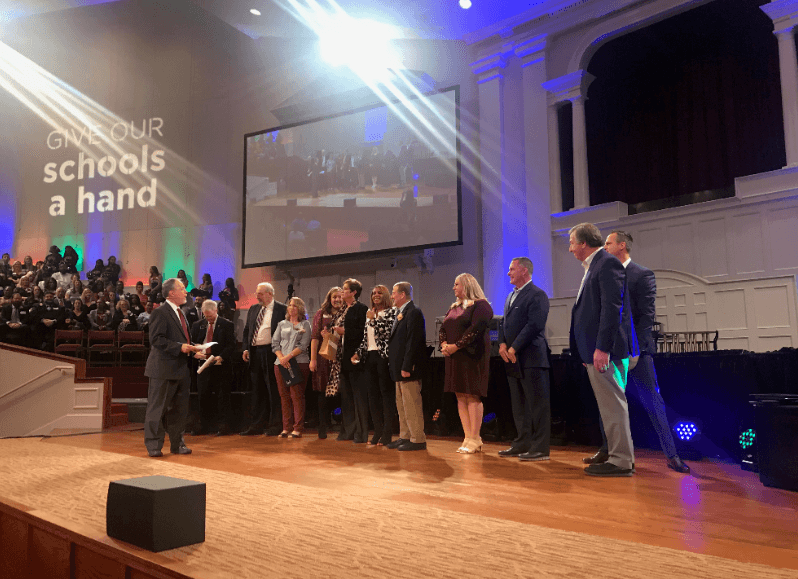 This fall, Ed Voyles Automotive was a proud sponsor of the Cobb County's Teacher of the Year Awards! We are proud to be an annual supporter of this very important initiative that gives deserving teachers new car leases. This year, we were happy to give away 5 new car leases, while in years past we have given away four. Learn more about Ed Voyles Chrysler Dodge Jeep Ram's involvement in Cobb County's Give Our Schools a Hand Program.
The GOSH Initiative Supporting Teachers of Cobb County
This October marked the 30th annual Give Our Schools a Hand event for Cobb County's Teachers of the Year! Originated in 1988, the Give Our Schools a Hand Program, also known as GOSH, has been showing appreciation for teachers in the community. GOSH is an annual celebration that honors more than 130 teachers of the year from Cobb County, Marietta City, and post-secondary education systems.
About Ed Voyles Chrysler Dodge Jeep Ram
Ed Voyles CDJR is the leading Chrysler Dodge Jeep RAM dealership in Marietta, GA. From sales to service and parts and financing, we are proud to offer a superior customer service experience. Along with having the best inventory and newest models on our lot, we're proud to provide our customers with a no-hassle car buying experience. In fact, we have received a nomination for the TIME Dealer of the Year Award and are a proud recipient of the FCA Customer First Award for providing the highest level of customer service!
We are proud to support our community in any way that we can. From sponsoring the Cobb County Teacher of the Year Awards to other sponsorship opportunities like our Jeep Wrangler Giveaway that benefits areas High School Bands, we're proud to get involved in the local community and local schools.
This year's celebration took place on October 23rd at Roswell Street Baptist Church. More than 2,000 local students attended the pep rally to cheer on their favorite teacher of the year. At Ed Voyles CDJR, we were so happy to present deserving teachers in Cobb County with a new leased vehicle!
Get in Touch with Our Team
Whether you are looking to learn more about our community sponsorships or are interested in a new car, truck, or SUV, Ed Voyles Chrysler Dodge Jeep Ram is your destination.
We offer convenient hours from 9 AM to 8 PM Monday through Friday and 9 AM to 7 PM on Saturday. We are even on Sundays! To find our dealership, visit our convenient location at 789 Cobb Pkwy S, Marietta, GA — we're within driving distance of the surrounding Smyrna, Kennesaw, Woodstock, and Atlanta areas.