Compare 2019 Ram 2500 & Ford F250 at Ed Voyles CDJR in Smyrna, GA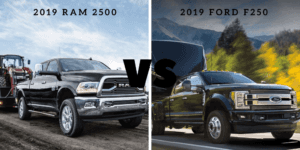 When it comes to heavy-duty pickup trucks for the work force, there are plenty of choices. The Ram 2500 and Ford F-250 are amongst the best in large-sized pickups, so how do you know which one is right for you? Pickup truck shopping can be stressful, with so many capabilities and engine options that seem right for the toughest of jobs. Let Ed Voyles CDJR take that hassle out of truck shopping and let us compare the Ram 2500 to its rivals and see how it stands up against the all-new Ford F-250. From Woodstock to Kennesaw, there's a Ram 2500 for you in Marietta.
The 2019 Ram 2500 vs. the 2019 Ford F-250: Which is Best for You?
When it comes to large-size, heavy duty pickup trucks, there's no denying Ram and Ford wrote the book. Both are award-winning vehicles and both have top-tier capabilities. So, what separates the Ram 2500 from the Ford F-250? How about unrivaled power and a value second to none? With an affordable starting price and all the muscle to get any job done, the Ram 2500 works harder so you don't have to.
Two Powerful Engines for any Job
The Ram 2500 and the Ford F-250 both have several trims to choose from, and both provide both gas and diesel engine options for your towing and hauling needs. The Ram 2500 goes just a little further in what it can do. Choose from the 6.7-liter Turbo Diesel engine that can haul 17,980 pounds or go with the standard 6.4-liter Hemi V8 engine for a best-in-class horsepower (410), best-in-class maximum payload (3,990) and best-in-class tow load (16,320) for gas engines. The Ford F-250 works hard, but the Ram 2500 works harder. Unrivaled in power and capabilities, the Ram 2500 can handle any job under any condition.
A Stylish Interior Adds to the Value of the Ram 2500
The Ford F-250 is a little more spacious inside with seating for up to six, but the Ram 2500 is unrivaled in its style and grace. You'll think you're driving a luxury SUV with its sleek and comfortable cabin. Its 12-inch Touch and Go screen is the largest in any heavy-duty pick truck and helps make your Ram 2500 an office on the go right at your fingertips. Now you can tow that heavy equipment from job site to job site while cruising in comfort.
Find Unrivaled Value with the Ram 2500 at Ed Voyles CDJR in Marietta
When it comes to value, the Ram 2500 is second to none. While the starting price is very comparable in the Ford F-250 ($33,150) and Ram 2500 ($33,395) you simply get more for your dollar with the Ram tough heavy-duty pickup. Whether it's more towing capabilities, more comfort, or one of the three 5-year/100,000-mile warranties to choose from, there's a reason Ram's have become a favorite. They are America's longest lasting heavy-duty pickup trucks and that lets you know you're making an investment for miles to come. If you're in Smyrna, Woodstock, Kennesaw, or the Metro Atlanta area, compare the Ram 2500 to its rivals and then come test drive the heavy-duty pickup truck that's best for you.