Community Support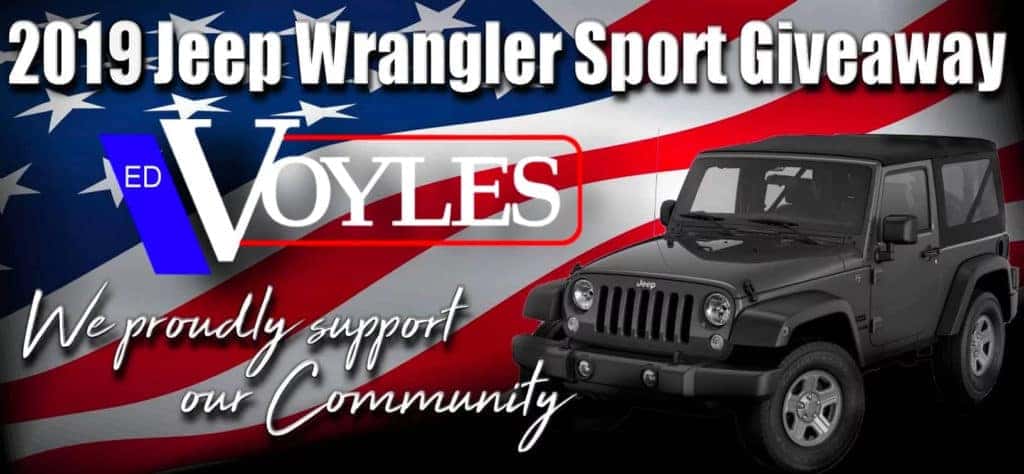 The Ed Voyles Jeep Wrangler Giveaway is back! We are donating a 2019 Jeep Wrangler Sport that will be raffled on Saturday, November 16th, 2019. The following schools will be selling $10 raffle tickets (the schools keep 100% of the profits):
Fellowship of Christian Athletes (FCA)

Harrison High School Band
Kell High School Band
Lassiter High School Band
Marietta High School Band
Roswell High School Band
Wheeler High School Band
This is just one of the ways that Ed Voyles Chrysler Dodge Jeep Ram supports our community and local schools. To purchase a raffle ticket, please contact one of the schools above (Ed Voyles Chrysler Dodge Jeep Ram does not sell raffle tickets).
For the complete rules and regulations, please see below or click the button to download the pdf. Please see the attached document for the 2019 rules.
JEEP Wrangler Sport Raffle Official Rules & Regulations – Ed Voyles Chrysler Dodge Jeep Ram
No purchase is necessary. Void where prohibited.
Must be 18 years of age to participate and win. There is no limit on the number of tickets an individual or business may purchase.
The campaign will run through November 14, 2019.
On November 16, 2019, one ticket will be selected through a random drawing, as the winner from all raffle tickets purchased. The Winner will be notified by telephone, email or mail using the information entered upon registration. Ticket holders do not need to be present to win.
Drawing will take place at 12 p.m. at Ed Voyles Chrysler Dodge Jeep Ram, 789 Cobb Pkwy S, Marietta GA 30060.
The winner will be awarded a 2019 Jeep Wrangler Sport 4×4, 3.6L-V6, soft top, from all tickets purchased prior to the drawing time on November 16, 2019. The grand prize is valued at $29,785.00 or $10,000 cash payout. Fees including taxes, title, license and document fees are the responsibility of the winner. In the event that the winner does not respond/reply to our contact attempts, a second ticket will be drawn after 72 hours.
Ed Voyles Chrysler Dodge Jeep Ram reserves the right to change any of this promotion and/or the terms. Odds of winning are based on the number of tickets purchased. A maximum of 50,000 tickets will be available for sale.
All net proceeds from the raffle benefit the band programs of the following schools: Harrison High School Band, Kell High School Band, Lassiter High School Band, Marietta High School Band, Roswell High School Band, Wheeler High School Band, and Fellowship of Christian Athletes (FCA). By purchasing a ticket, purchaser agrees to all terms and conditions.
Federal and State laws restrict the sale of tickets to only those state or local residents who specifically meet the requirements as set forth in the applicable statutes and regulations.
A ticket represents a chance to win the opportunity to accept an offer of the stated prize on the terms and conditions. If you hold a ticket or a receipt, your ticket has been entered in the raffle, and subject to all terms, conditions and rules of the raffle. All participants have an equal opportunity to win.
Tickets, receipts and the winners' rights are not transferable.
All sales of raffle tickets are final, and there will be no refunds.
Proper identification must be presented to claim the prize.
Acceptance of the prize is permission for Ed Voyles Chrysler Dodge Jeep Ram and the media to use the name, picture, video image, and relevant quotes of the winner. The winner must agree that the prize will not be used for further fundraising.
If there is more than one name on an entry, the prize will be awarded to the first name listed on the entry as a winner, so long as that person is 18 years old or older and a U.S. resident with proper identification. It is the sole responsibility of the winner in a multiple party entry to allocate any prize among the participants in that entry.
The winner accepting the above stated prize, valued at $29,540.00, or Equivalent (or $10,000.00 cash) will be subject to all applicable laws and regulations including insurance of the vehicle.
Purchase of this ticket constitutes full agreement by the purchaser that he/she agrees with all terms and conditions set forth herein.
Ed Voyles Chrysler Dodge Jeep Ram or any associated sponsors maintain no control of the personnel, equipment or operations of any supplier and assumes no responsibility for any financial loss, personal injury, property damage, other loss, accident, delay inconvenience or irregularity which winners may experience by reason of (1) performance/ nonperformance by any supplier; (2) wrongful, careless, negligent, or unauthorized acts of omissions on the part of any supplier or its employees, or on the part of any other party not under the control of the Ed Voyles Chrysler Dodge Jeep Ram; (3) any defect, breakdown or other failure of any aircraft, train, automobile, ship, accommodation, or other equipment or instrumentality owned, operated, or otherwise used by a supplier or; (4) any acts of God, acts or omissions of third parties, damage or loss associated with any terrorist activities, social or labor unrest, mechanical or construction failures, disease, local laws, climactic conditions. Or other conditions or developments. Ed Voyles Chrysler Dodge Jeep Ram shall in no event be liable for special or consequential damages arising from the use or ownership of any prize. Participants hereby release Ed Voyles Chrysler Dodge Jeep Ram and any associated sponsors from any such claims.
No Warranty/Limitation on Liability. Ed Voyles Chrysler Dodge Jeep Ram makes no warranties as to the vehicle to be awarded, beyond those offered by the manufacturer. By purchase of a raffle ticket, each entrant forever discharges and releases Beneficiary, Sponsor(s), its/their parent companies, subsidiaries, affiliates and their respective directors, officers, employees, and agents from any and all liability, claims, caused of action, suits and demands of any kind arising from or in connection with the promotion, including, without limitation, responsibility for property damage, loss of life, or personal injury resulting from or in connection with participating in the raffle or from or in connection with use or receipt of the prize, however caused.
This is not a solicitation. This is for informational purposes only.
Violations of any of these rules or attempts to win any contest by fraud, deception, or cheating shall be grounds to disqualify that individual from participating in all current and future contests and events at the sole discretion of Ed Voyles Chrysler Dodge Jeep Ram, as well as forfeiture of any prize won by fraudulent means.
---