Commercial Vehicles Overview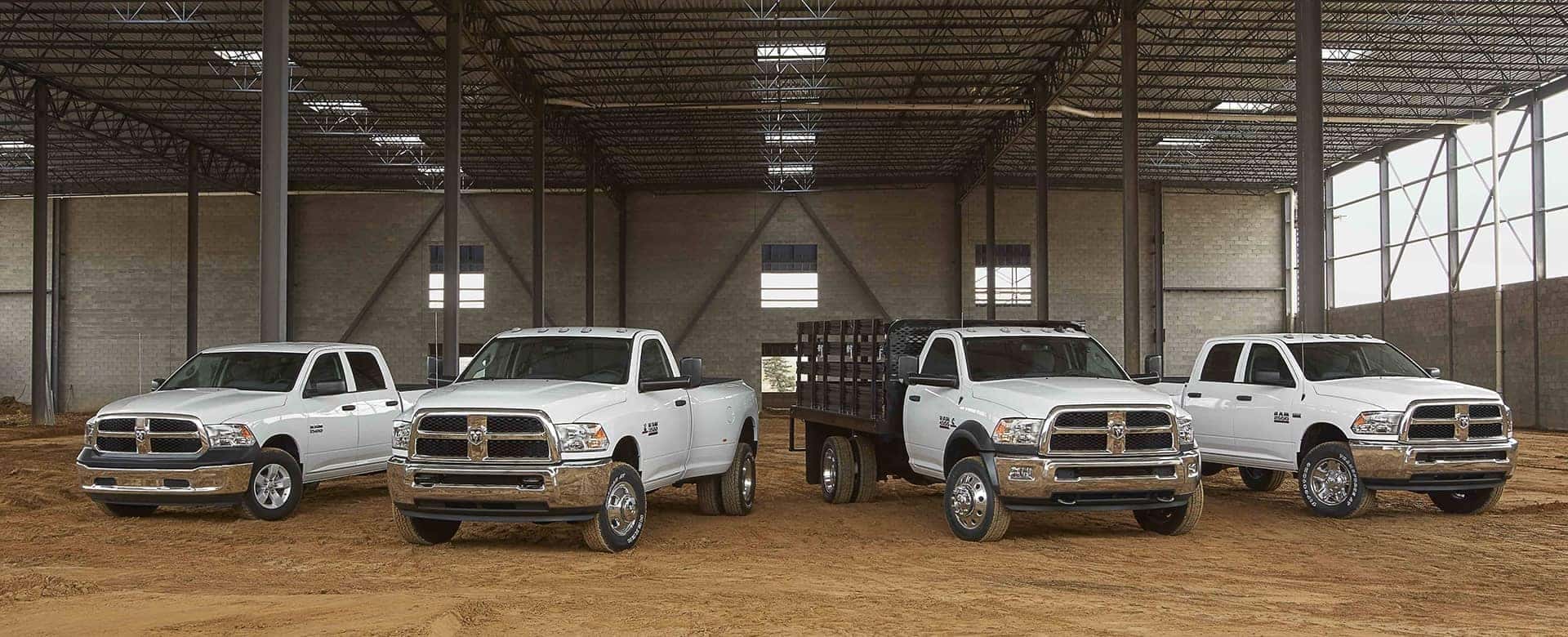 Whether you own a small business or if you work in an industrial job, you may need a commercial vehicle to help you do everyday tasks essential to your success. Different jobs and businesses require different kinds of commercial vehicles. Ed Voyles Chrysler Dodge Jeep Ram offers the right commercial vehicle for everyone. Check out some of our great commercial vehicles below. To view ALL our commercial vehicles, click here.
The Ram ProMaster City can be configured as a cargo van or as a passenger wagon. The Ram ProMaster City features a 2.4-liter, four-cylinder engine, and a nine-speed automatic transmission. This engine produces a respectable 178 horsepower and 174 lb-ft of torque. It achieves an EPA-estimated mpg of 21 city/29 highway/24 combined. It's a great option for small businesses that make frequent deliveries or that frequently buy goods and supplies from their vendors.
The cargo van version offers an impressive 131.7 cubic feet of cargo capacity. The passenger wagon allows seating for five, which can be more practical for a work team. However, cargo capacity does drop to 74.1 cubic feet. If these rear seats aren't in use, you can fold them down to reach a total 101.7 cubic feet of cargo capacity. The cargo area features cargo tie downs, and the rear doors offer a 60/40 split. These doors open to 90 degrees automatically, and you can release a hinge latch to let them swing open to a full 180 degrees. With a payload capacity of 1,833 pounds and a towing capacity of 2,000 pounds, the Ram ProMaster City is a very capable light-duty commercial vehicle.
One of the most popular commercial vehicles on the market is the Ram ProMaster. It has best-in-class turning diameter, lowest load floor height, and standard cargo. Ideal for Atlanta plumbers, electricians, and landscapers, the Ram ProMaster has a powerful front-wheel-drive system for optimum traction and mobility. Navigate busy streets and worksites with a 36-foot turning diameter. Choose from a cargo van, chassis cab, cutaway van, or window van trim to suit your business needs.
The Ram 2500 Truck is a great choice for a medium-duty work vehicle. The Ram 2500 Truck automatically comes with a 5.7-liter V8, which provides 383 horsepower and 400 lb-ft of torque. This gives you a very useful amount of towing capacity, which caps out at 13,890 pounds. If you opt for the 6.7-liter diesel inline six-cylinder engine, then torque increases to 800 lb-ft, and you get 17,980 pounds of towing capacity. Payload capacities for these engines are 3,060 pounds and 3,160 pounds respectively. The vehicle cab can be figured to seat up to six people, so the Ram 2500 truck is a great choice for construction crews and other industrial teams that need to travel to job sites and take their equipment with them.
Ideal for moving or construction companies, the Ram 3500 has best-in-class diesel towing and torque. You'll be able to handle the longest haul with a payload of up to 7,390 pounds. Ram is America's longest lasting pickups for a reason. You'll be able to make the heaviest trips easy with 900 pound-feet of diesel torque.
If you prefer a gas engine, the Ram 3500 is also available in a heavy-duty 6.4L HEMI V8 engine. The legendary pickup now has a cargo-view camera, so you can keep a diligent eye on your precious cargo and a rear auto-level air suspension to ensure level cargo loads. We also offer Ram Chassis Cabs to suit any job. Named Work Truck Magazines 2015 Medium-Duty Truck of the Year, the Chassis Cab is available in Regular Cab SRW, Crew Cab SRW, or Tradesman models.
To complete a construction or commercial job, you need a capable vehicle with the cargo room or payload that meets you needs. Many car manufacturers focus only on the exterior look of their vehicle but ignore key performance requirements.
Ram is different. Ram is built tough and offers vehicles that are more than capable of tackling the toughest job. Whether you need an efficient vehicle for your plumbing business or a chassis cab to tow precious cargo, Ram has a brand new line of vehicles to meet your job requirements. Ed Voyles Chrysler Dodge Jeep Ram has a vast selection of fine Ram trucks and vans, so you can successfully fill your business requirements.
Happy customers are the foundation of any good business and you need a vehicle that won't let you down. For us, we make sure that our customers are satisfied with their purchase. Learn more about our latest commercial vehicles and our exclusive commercial incentives.
Commercial Financing & Tax Incentives in Marietta, Ga
We have stellar commercial financing and tax saving options for our customers. We have a team of financial gurus who can help you set up affordable monthly payments for your commercial vehicle. Whether you have great, poor, or no credit, we have solutions to make sure you leave with the vehicle you need for your business. Fill out a Finance Application and a member of our team will get back with you. We can help you establish a commercial line of credit to not only improve your business but also your financial life.
Talk to a member of our team about upfit financing for your Ram 3500, 4500, or 5500 bodies. We can help customize your Ram to cater to the jobs you need to get done. For unbeatable tax saving, view IRS Section 179 and bonus depreciation (attached By Model Lookup) for the commercial vehicle you need.
Visit Ed Voyles Chrysler Dodge Jeep Ram for Unbeatable Commercial Vehicles
Contact our sales team at (844) 307-9517 for any questions and visit us in Marietta to chat with an experienced commercial staff member for more information. You can also fill out our online contact form.