Compare Ram 1500 vs. Chevrolet Silverado and Ford F-150 in Marietta, GA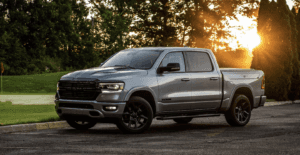 When it comes to shopping for a pickup truck, there is a solid array of popular choices, most notably the Ram 1500, the Chevy Silverado, and the Ford F-150. All of these trucks are popular among those who love going on long road trips, as well as those who need to regularly carry a good amount of supplies and need the cargo space. These three vehicles all have noticeable features that suit different needs, and you may be having trouble deciding on the best truck for you. Not to worry, Ed Voyles CDJR of Marietta has all the details about each truck, most notably, how the Ram 1500 compares to two of its main competitors.
The Ram 1500 continues to be a champion with stellar performance and advanced safety and technology features, in addition to innovations in comfort and style. Ed Voyles CDJR can help you find great trucks like the Ram 1500 in the Marietta area, and we are ready to help you get behind the wheel of your dream truck faster than you ever thought possible! Read on to see how we've broken down how the Ram 1500 stacks up to the Chevrolet Silverado and the Ford F-150.
View Inventory
How Does the Ram 1500 Compare to the Chevrolet Silverado?
The Ram 1500 and Chevrolet Silverado, two of the most popular pickup trucks on the market, and both offer a choice of four different engines. They also boast solid warranty, with both having 3-year/36,000 mile basic warranty and 5-year/60,000 mile powertrain warranty. However, the Ram 1500 also offers a 5-year/100,000 mile rust-through warranty, roadside assistance, and diesel powertrain warranty.
When it comes to handling, the Ram 1500 comes out on top. Thanks to rear suspension, you get the smoothest ride no matter where you go, and air suspension makes entering and leaving even the tightest spaces a whole lot easier. While the Silverado is able to handle a number of environments quite well, it is noticeably harder to maneuver in narrower and tighter areas, which the Ram 1500 excels at handling.
The Ram 1500 is a clear winner in ensuring structure equates to function as well as style, with its high-strength steel frame that provides the ultimate durability. It offers the rugged appearance many look for in a pickup truck, and accessing the cargo bed is a breeze thanks to the multifunction tailgate and RamBox Cargo Management System.
On the interior, the Ram 1500 offers the best of both worlds of comfort and luxurious style. The Ram 1500 has best-in-class rear legroom at 45.2 inches and eight degrees of rear-seat incline, allowing every passenger to feel their most comfortable. There are also a ton of extra storage spaces ready for you in the Ram 1500, including upper and lower glove compartments, class-exclusive in-floor storage, and door pocket storage with LED lights. The Silverado offers synthetic rathher than genuine leather, and many of the interior materials are not as quite as favorable to the touch as that of the Ram 1500, and there are also more plastic materials inside the Silverado.
When you drive any vehicle, you know you want the best in safety, and this is where the Ram 1500 also sets the highest standards. Oversteering and understeering are both corrected with Electronic Stability Control, and Electronic Roll Mitigation helps with reducing wheel lift; both of these features apply the brakes appropriately and also reduce engine power when needed. The 360-degree view camera helps alert you of anything in your way all around you, while Parallel and Perpendicular Park Assist help you maneuver your way into challenging parking spaces.

How Does the Ram 1500 Compare to the Ford F-150?
Another popular competitor to the Ram 1500 is the Ford F-150. Both trucks offer ample space for your passengers to feel comfortable, and provide space for everything including the kitchen sink, if you need it. However, due to the extra storage compartments easily found throughout the Ram 1500, it is clear that this truck has a massive advantage and is clearly a leader in cargo and storage space. Comfort is also where the Ram 1500 is a standout, with surfaces on the interior that are more advanced and are more pleasant to the touch.
Buy Your Ram 1500 at Ed Voyles CDJR Service Center in Marietta, GA
It's clear to see that Ram 1500 is a champion of pickup trucks that provides the best in handling even the roughest conditions, and offers the comfort you need after a long day exploring the great outdoors. We can help you get your new Ram 1500 in no time, and answer whatever questions you may have. Make now your time to shop for your Ram 1500 in our extensive inventory, and contact us to schedule a test drive!