Pre-Order the 2020 Jeep Gladiator in Marietta, GA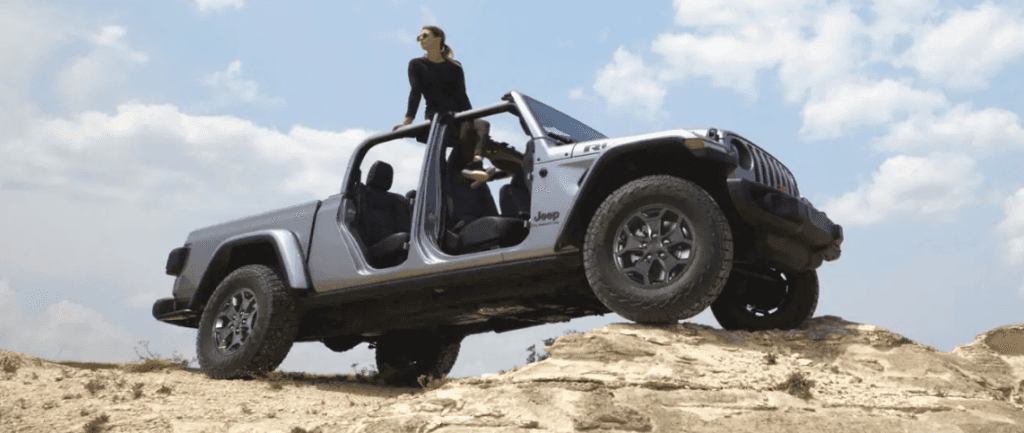 Although Jeep is best-known for its rock-crushing, mud-slinging Wrangler models, the manufacturing giant has been developing one of the most anticipated vehicles of this year. The all-new 2020 Jeep Gladiator is the ultimate mid-size pickup truck that has swept the competition in several different ways.
Let's take a closer look at why the new 2020 Jeep Gladiator is in a class of its own. Got immediate questions about the availability of the new Jeep Gladiator in Dallas and Kennesaw? Don't wait! Contact Ed Voyles Chrysler Dodge Jeep Ram in Marietta today by calling 855-433-6546 or complete our online pre-order form below.
Pre-Order Your 2020 Jeep Gladiator
The 2020 Jeep Gladiator Boasts Best-in-Class Specs & Ratings
The new Jeep Gladiator isn't just another truck model to hit the market in 2020. It is The Truck of the decade! Jeep set out to design the only open-air truck in the entire industry. The design and specs of the 2020 Gladiator are proof that Jeep accomplished their primary goal.
Create Your Own Roads in Cobb County
All of the 2020 Jeep Gladiator trucks for sale will offer some of the most amazing specs that you have ever experienced in a mid-size truck. Standard 44 rear and front axles and a low- and high-range 4×4 system offer the new Gladiator incredible agility and traction for when you venture off the well-beaten path.
You've Got the Power!
And the all new 2020 Jeep Gladiator has been engineered to deliver an outstanding 7,650 pound towing capacity, which is Best-in-Class. With this much towing power, you can easily tow your boat, a camper, or a trailer full of ATVs along for your next journey. You'll also enjoy Best-in-Class payload of up to 1,600 pounds to add a new dimension to the versatility of this mid-size truck.
2020 Jeep Gladiator Technology & Interior Features
Jeep has outfitted its new Gladiator model with a leather-trimmed interior that offers a distinct luxury component. In addition, you'll be enveloped in cutting-edge technology to help you connect to your journey like never before.
The 2020 Gladiator comes with an optional 8.4-inch NAV touchscreen with Uconnect® that places everything you need front and center, including Android Auto™ and Apple CarPlay™. The Gladiator's industry-exclusive removable Bluetooth® wireless speaker adds a new dimension to your off-roading adventures. In addition, the Jeep Gladiator features a tailgate that can be placed in three different positions for maximum flexibility.
The Jeep Gladiator is the Most Off-Road Capable Midsize Truck Ever!
Whether you're looking to tackle the backroads in Dallas or venture through the mountains of Kennesaw, the Jeep Gladiator will take you there and beyond! At the heart of every new Gladiator are Jeep's remarkable 4×4 capability enhanced by heavy-duty Dana 44 front and rear axles. You'll enjoy impressive off-road tools like:
FOX shocks
Lockable Wide track axles
An electronic disconnecting front sway bar
Large 33-inch All-Terrain tires
In addition, the Jeep Gladiator offers an available Industry-Exclusive forward-facing TrailCam Off-Road Camera that helps you easily navigate off-road obstacles with more confidence.
Contact Ed Voyles CDJR for the New 2020 Gladiator
If you're considering a new mid-size truck, do yourself a favor and check out the new Jeep Gladiator for sale in Kennesaw and Dallas. This Wrangler-inspired truck boasts an attractive design, the best of Jeep's functionality, Best-in-Class performance, and some of the most cutting-edge technology available today! Ready to learn more about the new 2020 Jeep Gladiator? Contact Ed Voyles CDJR today by calling 855-433-6546 or complete our online contact form.