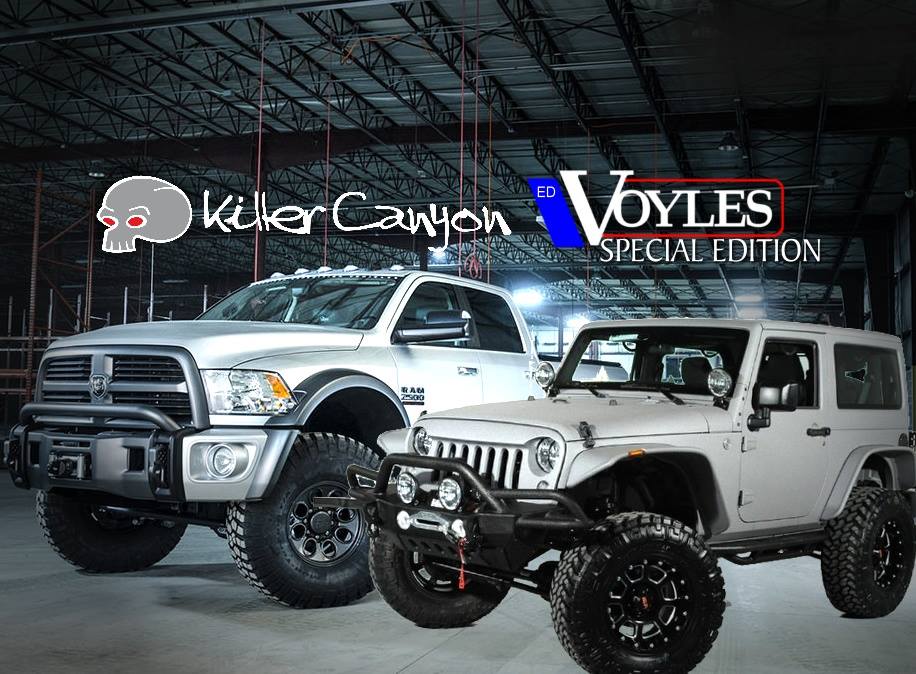 Killer Canyon Customizations Available at Ed Voyles CDJR
Looking to upgrade your Jeep or Ram to the next level? Visit our Killer Canyon shop for the best lift packaging and off-road upgrades so you can tackle the outdoors to the fullest. Whether you want to upgrade your current car or want to purchase a new Jeep or Ram at our dealership, we can take care of all your aftermarket needs. Â  Â 
Get exclusive deals and stay up to date on our latest packages by following
Killer Canyon on Facebook
. Get your upgrade accessories and begin learning about how easy it is to customize your vehicle at Ed Voyles CDJR. Â 
Find a New Ram Truck or Jeep 4x4 the Easy Way
Although the stock suspension systems and lift packages are great on Jeep and Ram trucks, some drivers need even more durability. If you like to travel the toughest terrain and explore the most challenging off roads, upgrade you vehicle with a premium lift kit. Â Â 
Search through our
new Ram
and
new Jeep
inventory. Filter your results by model, year, body style and more until you find the vehicle that is right for you. The most popular models to customize include: Jeep Wranglers, Jeep Grand Cherokees, and Ram 1500s. Â 
Customize Your Vehicle at Ed Voyles CDJR
Georgia is known for its abundant greenery and scenic off-road destinations. Thousands of drivers upgrade their right and personalize their vehicle, so they can explore the outdoors to the fullest. Â Â 
However, purchasing a new vehicle can be a hefty investment for many people. Ed Voyles CDJR offers a one-stop shop to purchase and customize your vehicle with exclusive financing deals. Â Â 
Set up manageable payments that fit your budget and leave our shop with the car you want. Fill out an
auto loan application online
and include the lift package you are interested in purchasing and contact our sales team for more information. Call us at (844) 326-6858. Â 
MoPar Parts and the Most Popular Lift Kits
Shop our
MoParaccessories store online
for the industry leading parts provider. Shop for new rims, floor mats, rack, carriers, and of course, lift kits. For your Jeep or Ram truck, find a new lift kit, rock rails, suspension kit, skid plates, and more at the best price. You can also schedule a full installation out our service shop in Marietta.
Scheduleservice online
and begin new adventures today. Â 
MoPar Parts and the Most Popular Lift Kits
Serving Marietta, Smyrna, Kennesaw, Woodstock, and Atlanta
We are open seven days a week, so you can always take care of all your auto-service needs. Get the fastest
directions
to our shop in Marietta and view our inventory in person. Speak to a member of our knowledge sales team and they can help pair you with a vehicle that's right for you. We'll also chat about great lift kits and work out a fair price for your package. Â Â 
For any questions, give us a call at (844) 326-6858 or contact us online for help. See you soon!